How to redecorate for very nearly FREE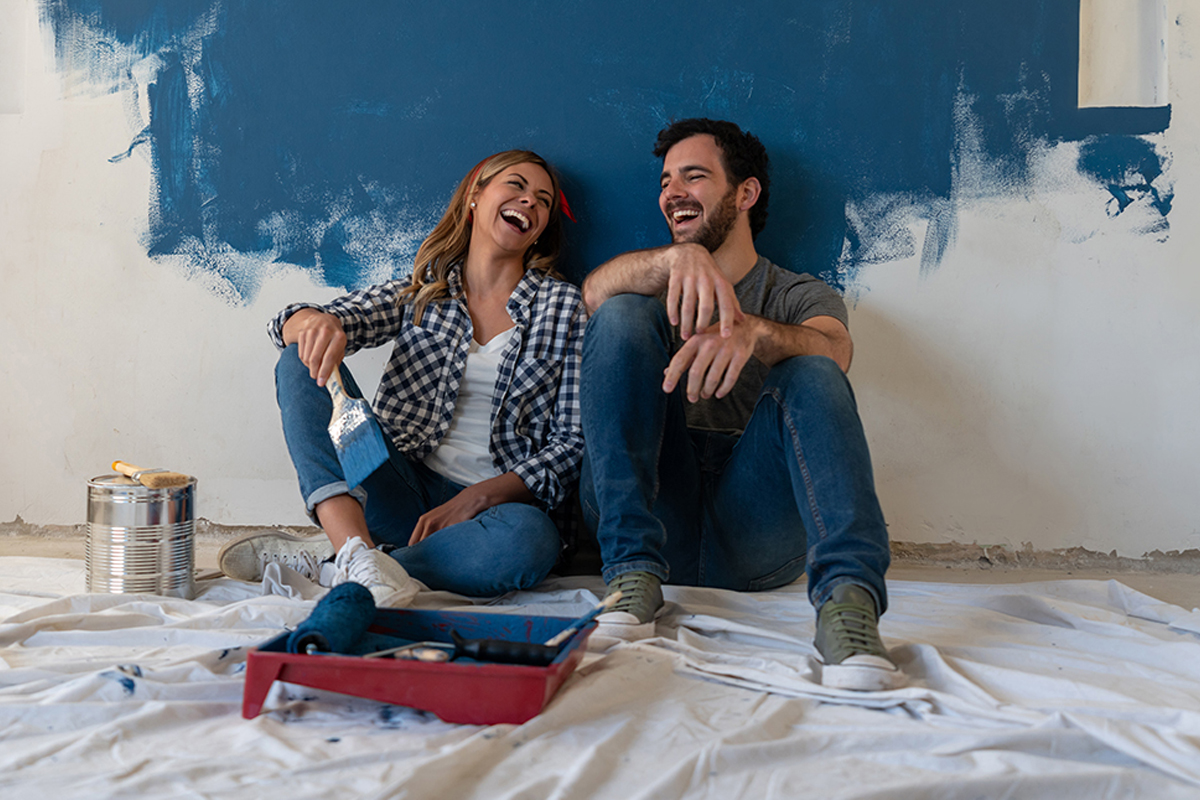 Covid and lockdown has meant we have spent a great deal more time than usual at home. If staring at the same four walls is becoming tiring, or if they are starting to look a little worse for wear, it could be time to think about decorating.
Of course, that also means thinking about the disruption, mess – and cost.
The good news is that you can give your room a new look without spending a fortune, and you don't need to be a DIY expert.
Say no to wallpaper
Wallpaper can look great. But not only is it surprisingly difficult to hang like a professional, it is also surprisingly expensive. The low-cost answer is to stick to paint. You can simply paint over most existing wallpaper provided that it is in reasonable condition. If it isn't, you may need to scrape it off. This is easier if you hire a steamer, which dissolves the paste, but you can often simply soak the old paper with water for the same effect.
If your plaster is sound, you can then just paint the wall directly.
You don't even need to repaint all the walls to change the look and feel of your room. Paint a feature wall, upcycle a tired piece of furniture and your room can feel fresh and new.
Say yes to free paint
Surprisingly, there are many sources of free paint that can help you.
The first step is to ask family and friends. Many will have tins cluttering up sheds and cupboards that they will be happy to get rid of.
You could also investigate your local recycling facilities. Half-filled paint tins are an environmental hazard, and many will have recycling schemes which will let you take them away.
But there is even a formal scheme that covers the country, sponsored by Dulux.
The Community RePaint scheme.
The Community RePaint scheme lets you use other people's unwanted paint to give your home a fresh look. All the paint is good quality that is either leftover from another homeowner's decoration project, a mis-tint or dented tin from a retailer or a discontinued line from a manufacturer.
Rather than allow perfectly usable paint to end up in the waste stream, the scheme sells it to the community for £1 – £2 per litre. This is a very significant price drop from what you would normally be expected to pay in your local DIY superstore, which can top £15 for a 2.5 litre tin of emulsion paint depending on the brand, and even more if you need a gloss paint for an exterior door or other woodwork.
The Community RePaint network is made up of over 65 schemes that sell a range of paint from interior emulsion, masonry, fencing and furniture paint in a range of finishes. Undercoats, varnish, floor paint, and satin paint can all be found there.
Click here to find the Community RePaint scheme closest to your location.
Other ways to grab a free tin
You may even be able to get your paint absolutely free.
There are plenty of 'free to a good home' websites that let you search for specific items. Create an alert for 'paint'. That way, as soon as any free paint deals are listed, you will get a notification.
Look at Freecycle and Gumtree. Again these are a great way to find and request items such as paint, to help reduce waste and save money. Find your local branch, join and ask if anyone has any free paint available. You may need to wait a little but it can come up fairly regularly.
DIY mixing
Of course, if the paint is free, you may need to compromise on the colour. But if you are brave, you may be able to mix it yourself. First, find white paint. White is always in demand because it is the only answer for ceilings. (You may need some anyway. A fresh white ceiling can make a surprising difference to any room).
If necessary, you can even buy cheap white paint- there are often offers on. Then carefully add a very small amount of the colour you want, (make sure it is the same type of paint) and stir until the colour is mixed in. Remember, the colour in the tin is not the same as it will dry on the wall, so try a test patch first.
Just be careful to get the paint on the wall, not yourself, the floor or the kids!